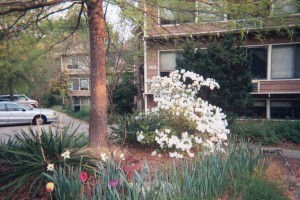 Cedar Rock Cooperative (CRC)
Cedar Rock Cooperative is located at 703 & 705 North Greensboro Street, Carrboro. Cedar Rock is a Limited Equity Cooperative. There are 6 units which each have a monthly carrying charge of $858; each has 3 bedrooms, 2 bathrooms, passive solar windows, and washer/dryer/dishwasher. Our outdoor commons space includes community gardens, a tool shed, a garden shed, rainwater catchment systems, and a fire pit for communal bonfires.
CRC is an intentional, dweller-controlled, participation driven community. We are LGBTQ inclusive – some of our residents are from the LGBTQ community, and we expect new community members to share our value of respecting and welcoming all.
Pictures of CRC Life
Click here to see pictures from around our co-op and events we've organized.
CRC Residency Requires:
A minimum 5-hour commitment per month participation in our community, including a mandatory monthly meeting, other meetings, yard work, simple maintenance, administrative work and organization, and other duties as needed;
A minimum 1-year lease commitment;
An eligible low-income housing income of less than $30,840/year (demonstrated with tax forms) for a single individual with no dependents. We use the Durham-Chapel Hill, NC HUD Metro FMR Area 60% Limits to determine eligibility. Please see page 2 for our metro area specific limits.
Available Rooms at the CRC
If you are interested in applying, would have time to participate in the co-op, and meet the residency requirements, please send us an application. Even if there are not current openings, we keep applications on file. There are two ways to rent:
As a single member, occupying 1 bedroom as a non-lease holding resident;
As a leaseholder, with two non-lease holding residents or family members.
Renting a single room with an already existing resident, instead of a whole unit, does not require an investment in the property. Click WCHAApplicationfinal for a Doc file of our application, or WCHAApplicationfinalpdf for a PDF of our application. Please e-mail application to: crc.rcc@gmail.com.